Dear SCU,

Not sure if i chose the right topics to post this announcement but we were racing with a couple of teams during your successful Sebring 12h race.
We promised to get back for some more racing, so why not inviting you to race with us during an Indy500 race?
Here are the details. Visit us at Simjunkies or PM me for any further informations.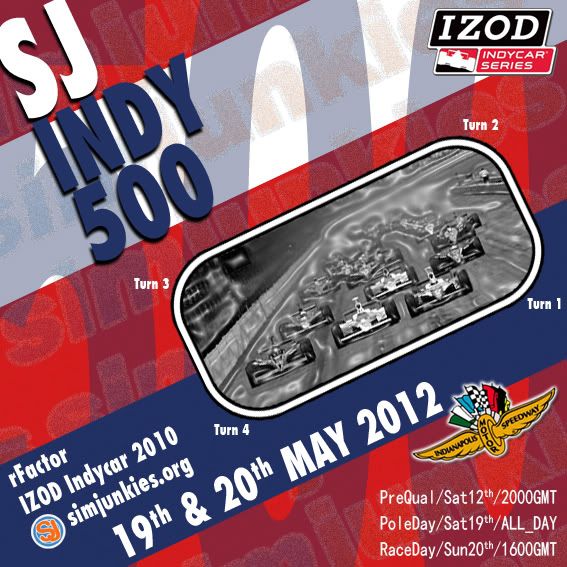 Sim : rFactor

Mod : IZOD Indycar 2010
(http://www.virtualr....10-1-1-released)

Track : Indianapolis
(http://www.mediafire...alk74k7v47f8714)

Cars selection & skins
Personal skins are allowed with no racing numbers conflicts.
You can also use default skins from the mod according to the car selection list.

Teams & Drivers
1 car per driver
Open to 3 drivers maximum per team.
Single driver team allowed.
Drivers coming from foreign leagues can team up with an SJ member
or they have to create a 2 drivers team from their own league in order to register.

Practice & Pre-Qualifying
Some practice sessions will take place before the race week.
A single Pre-qualifying session will take place one week before the event (saturday May 12th) in case of too many entrants.

Pole Day
Qualifying will take place saturday may 19th and consists of 4 timed laps.
Each car will go on track one by one to do 4 consecutive laps*.
We will record your 'total time' realized after 4 laps [10miles].
The fastest average speed will be on pole.
*number of attempts tbc.

Race Day
The race will take place on sunday may 20th.
Start @ 1600GMT.
200 laps.

Flags
All flags "ON"

Setup & Laptimes
Do not hesitate to ask for advices to set up your car.
We have a bunch of oval racers that can help you.
A timing page will be updated with practice laptimes.

Registration
Post your entry below, as following
Team name Driver1 #?? / Driver2 #??/ Driver3 #??